Join the City of Anna and Union County Chamber of Commerce & Economic Development in presenting Annabelle Festival.
Saturday, June 11, 2022
10AM – 9PM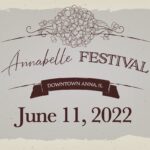 We are planning an outstanding day in downtown Anna and there is something for everyone.
The Annabelle Festival will take place on Davie Street and Lafayette Street, along with special events at Anna Arts Center, a walking tour of Anna, a bus tour of Jonesboro, and free swimming at the Anna Pool.
You won't want to miss this Union County event!