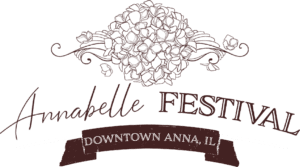 *West Davie Street Closes at 12PM. Retail vendors and Kid Zone open after Noon.
10AM: Pageant for Ms. and Mister Annabelle and Little Miss and Master Annabelle – Anna Arts Center
10AM: Walking Tour of Anna by Diana Shearer and PAST Bus Tour of Jonesboro. Walking tours of Anna start at the Annabelle Market and bus tours of Jonesboro start at Shawnee Community College Anna Extension Center (1150 East Vienna Street). Tours will go FROM 10 AM TO 2 PM.
10AM – 9PM: Art and Flower Shows at Anna Arts Center
Noon: Dodge Ball Tournament at Rise Performance (1004 Enterprise Drive)
Noon – 2 PM: Pet Parade – Moose Parking Lot (327 South Main Street) – then walks around Main St, crossing at the lights.
1PM – 5 PM: Free Swim at City of Anna Pool (300 Church Street)
 1 PM:  West Davie Street Closes
2PM – 4 PM: Magic Show at Anna Arts Center
3PM – 9PM: East Davie Street – Local Wineries Featuring Lincoln Heritage Winery and StarView Vineyards
3PM – 6 PM: Live Music, Corey Evitts (on Stage)
6:30PM: Annabelle Trail Awards (on Stage)
7PM – 9 PM: Live Music, Radio Days (on Stage)
6PM – 8PM: Painting Party at  Anna Arts Center
9AM, Sunday, June 12 – Disc Golf Tournament at City of Anna Park
Visit Us
301 South Main Street
Anna, Illinois 62906
Email Us
info@unioncounty.biz
Stay In The Know!
Keep up to date with all of the happenings at the Chamber and in Union County, Illinois. We promise we will only send you the good stuff!