87TH ANNUAL EASTER SUNRISE SERVICE AT BALD KNOB CROSS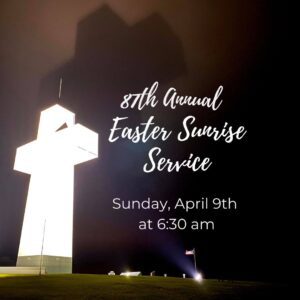 Alto Pass, Illinois – On Sunday, April 9th at 6:30 am, the Bald Knob Cross of Peace in Alto Pass
will host the 87th  Annual Easter Sunrise Service. This annual service remains one of the longest-standing traditions in the region. The gates will open at 5:00 am. Handicap parking and on-site
golf cart shuttles will be available. Worship Leaders for the event are Chris Parton and friends,
along with a worship band. Pastor Kudzai Musumhi of Calvary Campus Church in Carbondale,
Illinois will be the keynote speaker.
"In 1937, two men led an effort to unify Southern Illinoisans through an Easter Sunrise Service.
Today, we continue to fulfill their vision with this service featuring long-standing traditions as
well as a contemporary worship experience. This 87th annual event will be held in-person and
streamed online." commented Jena Guined, Executive Director of Bald Knob Cross of Peace.
Two food trucks will be on-site during the event with Cold Blooded Coffee Co of Murphysboro
and Dave's Bagels of Anna with additional breakfast items offered.
"After that first Easter Sunrise Service, the organizers began to develop plans for the site. In
1959, a groundbreaking was held for the Bald Knob Cross of Peace which was completed in
1963. Today, we host several signature events at the Cross in addition to the Easter Sunrise
Service," Guined continued.
More information about the 87th Annual Easter Sunrise Service can be found online
at www.baldknobcross.com, on Facebook at www.facebook.com/baldknobcross or by
emailing info@baldknobcross.com.
This event is sponsored by the generous giving of local businesses and community partners. To
help offset the costs of the event, donations can be made online
at www.baldknobcross.com/donate.
Contact:
Jena Guined, Executive Director
director@baldknobcross.com
(618) 214-4680